Multichannel is a Must in Today's Contact Center Environment
From a channel and technology standpoint, things have really changed in contact center management.  As a twenty-year veteran of this space, I am amazed at how consumers are eschewing the telephone for other contact alternatives.  In some ways, this need not come as a surprise; with more interaction options available, end-users rightly expect companies from which they buy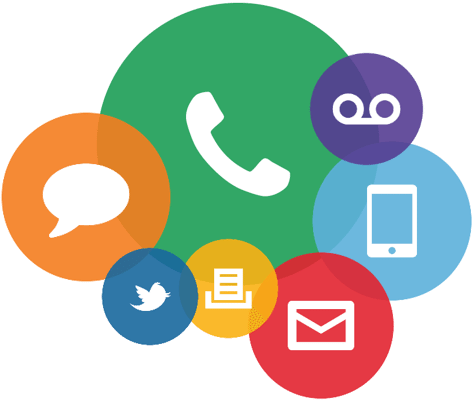 products and services to offer multiple channels.  The question for the enterprise must be whether they are able to deploy new communications mediums. If not, these same firms will need to take evasive action, as consumers will not wait.
First off, it is important to determine why so many end-users want to connect with enterprises using non-voice channels.  A major reason for this is the pervasiveness of these digital communication forms.  With the advent of personal computing and smart phones, consumers have multiple channels literally at their fingertips.  So why would they not want to pick the one they like best to contact a provider?  There is also the element of efficiency.  Every end-user has at least one story of trying to contact a company by phone, to be left on hold for ages listening to bad music or finding themselves caught in an infernal IVR tree.  And, while today such instances tend to be exceptional, they are not easily forgotten and contribute to the desire for alternative contact choices.
So just what are consumers looking for in non-voice options?  One that I continue to see as a reasonable alternative is email.  So often this channel has been written off as passé but the reality is that consumers see it as a good way of communicating with enterprises.  This was validated in Dimension Data's 2016 Benchmarking Report, which showed that over 90% of contact centers surveyed are using email as a contact channel.  This is being driven by end-user demand, such as by consumers that want to inquire about non-urgent matters, but that do not want to spend excessive amounts of time on the telephone.  The bottom line is that email is here to stay, no matter what the naysayers may forecast.
Another channel that I find very exciting is web-chat.  This channel is on a bit of a comeback, after a widely-acknowledged false start in the early to mid 2000s.  Today, consumers are rapidly taking on web-chat as a means of connecting with enterprises. And why not?  Most users of web-chat will testify that chat sessions tend to start quickly, and can be especially detailed (something that consumers love). In addition, the ability to save and print transcripts is a huge advantage for end-users, notably when associated with technical support.
The key for enterprises deploying email, web-chat or any other channel comes down to execution.  If implemented poorly, consumers can expect sub-standard customer experience, which means loss of loyalty.  If confronted with such a predicament, any firm needs to look quickly for a service partner that can help them up their non-voice game.  Customer-user churn certainly needs to be headed off at the pass and, in the case of channel selection, is 100% avoidable if addressed early.
By: Stephen B. Ferber, CEO Golden Gate BPO Solutions
02/20/2017

Created By:

Categories: