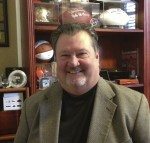 Frank Modrak has been with Golden Gate BPO since its inception. Frank is a straight forward people person, accomplished senior executive and entrepreneur with a proven track record in sales and customer service operations, complex deal making and negotiations, revenue generation and organization growth, leader of large sales and customer service divisions, call center consulting, process improvement in all facets of call center functions. As a 30-year industry veteran, Modrak has proven his ability to set industry standards, as well as manage and serve as a procurer and development expert in all aspects of the call center, customer care and support experience.
Prior to Golden Gate BPO Solutions, Modrak served as Executive Vice President of Sales for NetByTel, Inc., where he was responsible for managing the sales organization and overseeing all company-wide aspects of the sales process. Under his leadership, NetByTel had achieved record sales growth of 23 new clients within an eleven month period.
Modrak's experience extends from his leadership role at Precision Response Corporation (PRC), where his command of call center management and sales expertise was pivotal in driving the company to its position as one of the nation's leading call centers. He also held the position of National Director of Customer Service and Sales for Cox Communications where he developed Customer Service Operating Standards that later evolved into the foundation for the National Cable Television Administration and the Federal Communication Commission's Industry Standards. Prior to that, Modrak worked with Eastern Airlines, managing all facets of their call center operations.
Frank received his Bachelor of Science Degree in Industrial Management from the Georgia Institute of Technology.